Menu
Contact
Cape Town - 021-528-6700
Durban - 031-582-4400
Gauteng -011-858-4600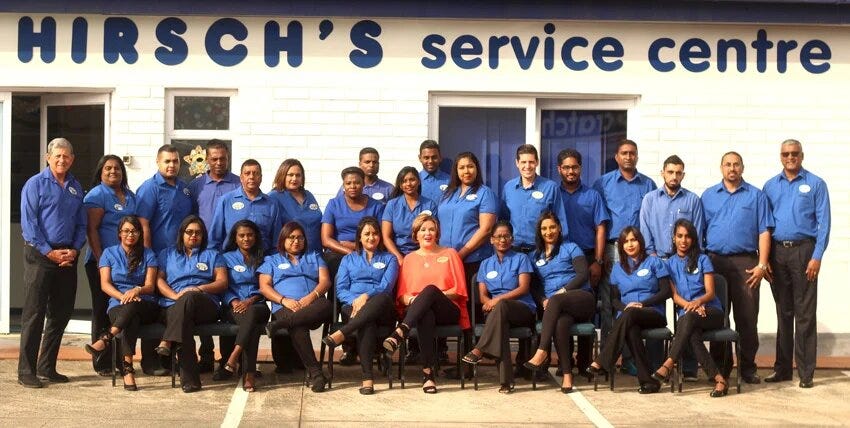 HIRSCH'S – STILL LEADING LIGHTS ON THE SERVICE FRONT.
Allan Hirsch entered the appliance industry 40 years ago as an appliance technician. He had qualified as a refrigeration technician with Fuchsware, who were leaders in the appliance industry at the time. With roots in Umhlanga Rocks Drive, Durban North, his success is largely due to the excellent service he provided. 38 years on and 13 retail stores later, the emphasis is still on providing excellent service. With service centers in KZN, Gauteng and the Western Cape, Hirsch's Service and Repairs are leaders in the appliance repair industry. This is complimented by service departments in each store to further assist clients who would like to book in carry in items. Comments Allan "With a large compliment of qualified and experienced technicians, we are able to independently take care of our customer's needs. Our staff, some who been in the appliance industry for over 30 years, are passionate about customer service."
Realizing that third party service agents were not providing their customers with an acceptable level of service when their appliances failed, Hirsch's approached their suppliers to become "Own Agents". Hirschs is now "Own Agents" for big brands like Samsung, Bosch, Siemens, AEG, Electrolux, Kelvinator, Elba and SnoMaster. "This means that if you bought any of these brands from Hirsch's, you can be assured that if things do go wrong, you can expect to have a technician call on you the same day or latest the next. We effectively take responsibility for sorting your problem without passing you on to a third party." Says Allan.
A few years ago, Hirsch's went down the empowerment route. All the technicians who were employed were given the opportunity to become subcontractors. This has proven to be very successful for both the technicians and the company. Because of the serious shortage of skills in the industry, Hirsch's embarked on a training programme to develop young men and women. Over the years, many of these trainees have become successful technicians and Hirsch's are proud to have them take care of their customers. Hirsch's technicians are exposed to all brands of appliances, thus preparing them for any challenges in the appliance repair industry.
"We are often asked, what makes us different from other appliance repair company's. Hirsch's is a family run business and our customers are considered part of that family. We do not pretend to be the best thing after bubble gum, but you can be assured that we will do our best at all times. The appliance repair business is a very dynamic one. Factors beyond our control influence our effectiveness so we are constantly looking at avenues to improve our service levels.
Call us for your next appliance repair and put us to the test. If you are not happy with any aspect of our service, please call us. We welcome objective criticism", concludes Allan